Latest News
12/11/2012
Dear E-Friends,
The "Conversion Table" (below) was sent to me by CW quite a few "bananoseconds" ago, but still has great "appeal" (thanks CW). It seems to be a great equalizer…not that I'm trying to "convert" anyone to anything. But if I were, I would subtly try a little sub-version into the dark-side for some jazz. After all, it's the darkest time of the year (not that I take a dim view of winter)…and jazz has got to be one of the brightest ways to make light of the lack-of-it. After all , it's a bright-minded, warm-hearted, open-minded, light-hearted, soul-centered, sole-tapping, knee-slapping, slap-happy, thought-provoking, peaceful-yet-rambunctious way to celebrate this/any season!
Any who…We have some fine musicians assembled to stuff your stockings silly, with sweet-seasonal-songs, sassy syncopation and soulful sets of mistletoe tapping JAZZ!
Wed. 12/12/12 WOW…it's Mark Raynes/drummer-boy, Braun Khan/bassman & Mark Sloniker/piano-plunker (7-10) we'll play lots'o Vince Guaraldi from "A Charlie Brown Christmas"
Thurs. 12/13 (6:30-10:30) We start out solo (how low?) SOloniker-low, then add a dash of Roger Barnhart/bass (that's a lot of lowing), then a pinch of Bossa-Nova-Diva, Judi Lucero and a modicum of Brazilian guitar, compliments of Monty Hogan AND a partridge-in-a-pair-tree!!!
Friday 12/14 (8:30-11:30) Myles Sloniker/bass, Andrew Vogt/sax, Mark Raynes/drums & Mark Sloniker/piano…three wise-guys and a rising star…(that's all I want for Christmas).
But wait, there's more! Saturday 12/15 We're saving the best for last with Colleen Crosson/voice, Braun Khan/bass and moi/keys (8:30-11:30).
But wait, that's not all! Next week Grant Gordy's guitar graces us on Friday 12/21…and just so you know, we'll be closed on Saturday 12/22 for a private party.
All at Jay's Bistro 135 W. Oak Street in Old Town (482-1876)!
I also wanted to let you know that my music will be featured on a video segment being aired this Saturday, Dec. 15 at 5:30 on KTVD, Channel 20 in Denver (Ch. 9's sister station). I am deeply honored that former 9News reporter and Emmy Award winning producer, Roger Wolfe used my music in a stunning film about Rocky Mountain National Park. You can obtain a copy of your own by visiting http://rockymountainreflectionsvideo.com
As always, thanks for listening and Happy Holidays!
Mark
CONVERSION TABLE
Ratio of an igloo's circumference to its diameter = Eskimo Pi
2000 pounds of Chinese soup = Won ton
1 millionth of a mouthwash = 1 microscope
Time between slipping on peel & smacking pavement = 1 bananosecond
Weight an evangelist carries with God = 1 billigram
Time it takes to sail 220 yards at 1 nautical mile per hour = Knotfurlong
16.5 feet in the Twilight Zone = 1 Rod Serling
Half of a large intestine = 1 semicolon
1,000,000 aches = 1 megahurtz
Basic unit of laryngitis = 1 hoarsepower
Shortest distance between two jokes = A straight line
453.6 graham crackers = 1 pound cake
1 million-million microphones = 1 megaphone
2 million bicycles = 2 megacycles
365.25 days = 1 unicycle
2000 mockingbirds = 2 kilomockingbirds
52 cards = 1 decacards
1 kilogram of falling figs = 1 FigNewton
1000 milliliters of wet socks = 1 literhosen
1 millionth of a fish = 1 microfiche
1 trillion pins = 1 terrapin
10 rations = 1 decoration
100 rations = 1 C-ration
2 monograms = 1 diagram
4 nickels = 2 paradigms
2.4 statute miles of intravenous surgical tubing at Yale University Hospital = 1 IV League
12/4/2012
Dear E-Friends,
my wonderful friend L.G. sent these:
If lawyers are disbarred and clergymen defrocked,
then doesn't it follow that electricians can be delighted,
musicians denoted, cowboys deranged, models deposed,
tree surgeons debarked, and dry cleaners depressed?
Would it not also follow that castles could be demoted (or is that demoated) barracks could be debunked, if I lost my good name would I be de-mark-ated (demarcated) or perhaps terminators could be determined?! Or how about all the combobulators of the world getting discombobulated. Or if my toes and heals could not get along, might I be defeated??? If someone in my peer group gets totally "dissed" do they indeed disappear??? While we contemplate these dis-turbing and debatable (which is what happens when worms don't get the hook) details (which is what happens when a puppy gets shortened)…. Whatever happens, we've de-cided never to disband…no matter what! Jazz @ Jay's Bistro this week will be delightful and totally deserves your detention?! Wednesday 12/5 Jay's welcomes that de-meaning Monster Trux Trio to de-stage – Patrick Atwater/bass, Mark Raynes/drums and Mark Sloniker/piano will defy gravity (7-10). Thursday 12/6 Jay's plays the jazz craze in ways no maze could phase graze or daze our employays…much less the likes of Braun Khan/bass & Mark Sloniker/piano (6:30-10:30). Friday 12/7 Join us decisively for a way-cool quartet: Ben Southcott/sax, Myles Sloniker/bass, Mark Raynes/drums & Mark Sloniker/piano (8:30-11:30). Mark Sloniker opens for himself from 6-8pm (solo piano). Saturday 12/8 Jay's Bistro hosts a fine trio with Dr. Chris Smith/drums, Myles Sloniker/bass and Mark Sloniker/piano (8:30-11:30). Solo-Slon (6-8pm). IF YOU ONLY ATTEND FOUR JAZZ CLUB GIGS THIS WEEK END!!!...??? These are four good ones.
Thanks for Listening!
Mark
11/16/2012
Dear E-Friends,
There's some fine jazz heading by way of Jay's Bistro this week-end! Join us if you can!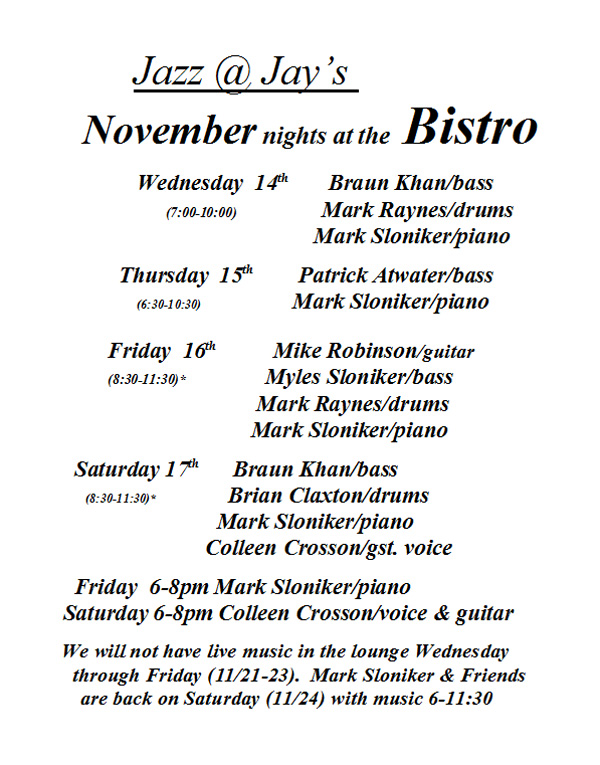 Thanks for Listening,
Mark
10/26/2012
Dear E-Friends,
Full line-ups for (Wednesday-Saturday) are below.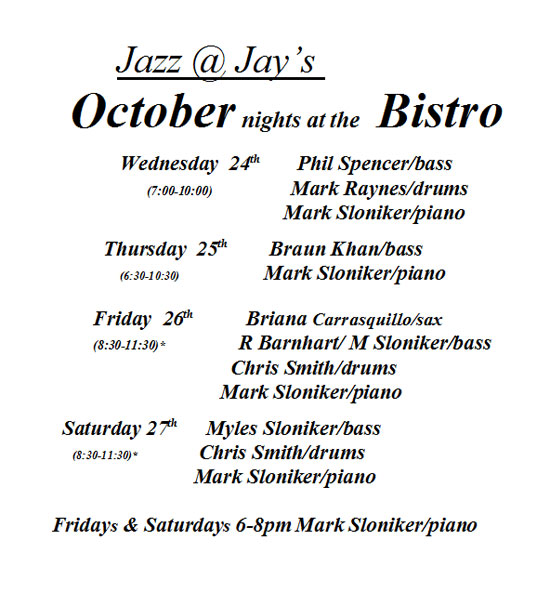 Thanks for Listening,
Mark
10/11/2012
Dear E-Friends,
I've got to be one lucky cat! Playing with the likes of bassist Myles Sloniker (7:30) tonight (Thurs.), then guitarist, Grant Gordy (Mark Raynes/Kevin Miles) on Fri. and vocalist, Colleen Crosson and bassist, Kevin Miles on Sat. (10/13)…I've "fallen" into some wonderful hands this Fall and this week! And next week is no different with: Andrew Vogt/sax, Roger Barnhart/bass on Fri. 10/19 and Myles Sloniker & Brian Claxton/drums with special guest vocalist Kalli VanderTopp on Sat. 10/20. See attachment for particulars. Join us at Jay's for some well-seasoned songs and some fine players – now that's something I can fall for AND get a rise out of, all at the same time!
Thanks for Listening,
Mark
8/22/2012
Check this out: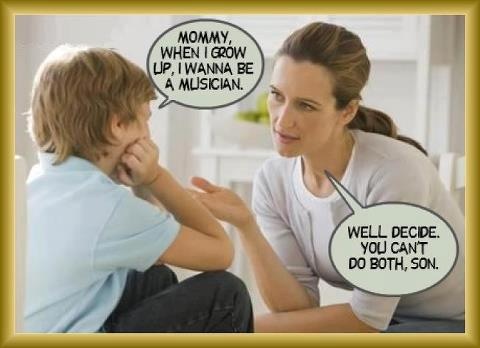 Well…………………….daaaaaaaaaaaaaaaaaaaaaaaaaaaaaaaaaaaaaaaaa!
Dear E-Friends,
There's no short supply of summer jazz @ jay's bistro. Though summer shorter than others, it's a pretty tall order to beat these fine players, from featured cats like Ben Southcott and Myles Sloniker on Friday to Colleen Crosson and Myles on Saturday…these entrées aren't anything a short order cook could've mustard up. Just remember that we relish playing for you! Full line-ups (Wednesday-Saturday) are below …as always, thanks for listening!
Mark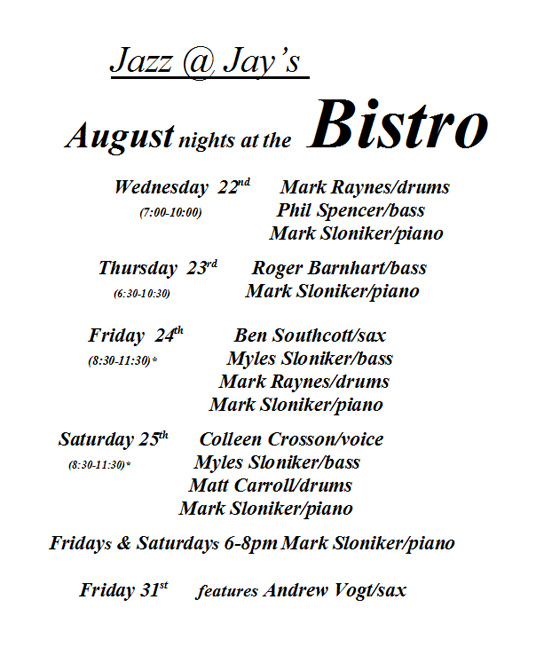 8/15/2012
Dear E-Friends,
We have some seriously good cats at the Bistro this week – from Peter Sommer/sax to Erik Applegate/bass…Myles Sloniker, Shilo Stroman and Brian Claxton etc…see below for the details. Hope to see you at Jay's Bistro this week end!
As always, Thanks for Listening!
Mark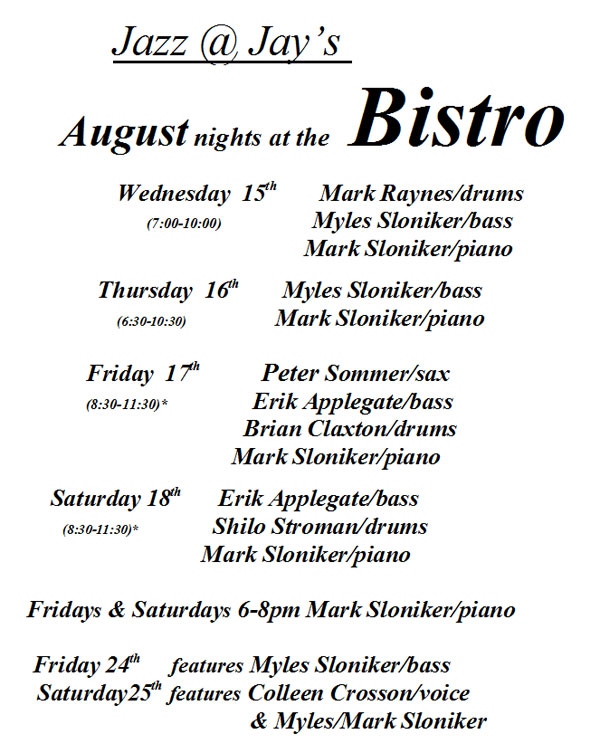 7/10/2012
Dear E-Friends,
Usually we think of January and February as being the slippery months – but July (and summer) seems to be slipping by at a record pace. Here are a few enjoyable musical events that just may slow things down a smidge:
Wednesday 7/11 at the CSU Lagoon (Summer Concert Series) Colleen Crosson, Myles Sloniker, Mark Raynes and I will play some tunes to relax into a beautiful summer evening! The CSU Lagoon is just one block south of Laurel and Loomis, on the CSU campus in a very GREEN-tree-lined-spot. It's one of my very favorite outdoor concert areas in Fort Collins. Bring lawn chairs, picnics and blankets (6:30-8:30).
Thursday 12th Myles Sloniker/bass, Mark Sloniker/piano and Friends light-up Jay's Bistro with soulful sounds and sonic musings (and all that jazz (7-10).
Friday 13th Jay's Bistro features home-grown violinist, James Anderson (back from Austin for a few Colorado gigs) with Myles Sloniker/bass, Mark Raynes/drums and Mark Sloniker/piano. James is always a joy to have at Jay's so come down and enjoy (8:30-11:30).
Saturday 14th Jay's features the very fine trio of Dr. Chris Smith/drums, Myles Sloniker/bass and Mark Sloniker/piano. We will be welcoming guest soloists up to join us (8:30-11:30).
It is Always a sincere joy and pleasure to play for you!
Thanks for Listening!
Mark www.marksloniker.com

6/27/2012
Dear E-Friends,
I could not pass this one up without passing it on (Thanks J.P.). Let this comic be a lesson to continue to focus on the positive even in tough times (even if we don't see eye to eye on everything).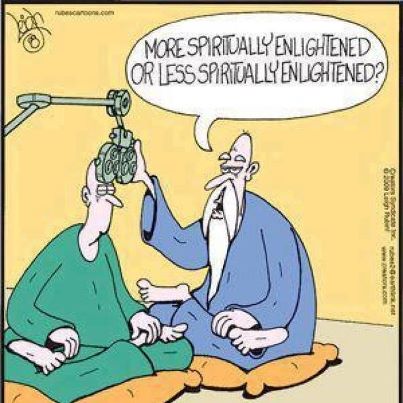 Even though I don't want to turn a blind eye when things are on the blink, I have a fovea about only seeing the negative and though it may seem cornea, a little optimism lens itself to seeing our way clearly into the future.
A little jazz helps too…
Wednesday 6/27 Jay's Bistro jazz 7-10 with Marty Kenney/bass, Mark Raynes/drums and Mark Sloniker/piano with some special guests sitting in, so come on down and see this thing through!
Thursday 6/28 Jay's jazz explores the duos and duon'ts of piano and bass based duets. Marty Kenney and Mark Sloniker will duit 6:30-10:30…friends don't let friends duet alone…so special guests will join in exercising duo diligence!
Friday 6/29 Jay's features newly Doctored drummer Chris Smith (at least I think he's a doctored drummer now…I don't want to rush things) with sax-sation Jory Tindall (on sax), bass-sation Myles Sloniker and piano-whisperer Mark Sloniker (keep it down over there). This quartet always gets the third degree (8:30-11:30). Matriculating in the Bistro is strictly forbidden!
Saturday 6/30 Jay's plays home to the family band (it gives "house band" a new meaning!) with Colleen Crosson/voice, Myles Sloniker/bass and Mark Sloniker/piano. Any special guests will be legally adopted before their appearance.
Bring your third ear for the best jazz listening experience!
Thanks,
Mark
www.marksloniker.com
6/22/2012
Howdy E-Friends,
Summer is upon us! And in full speed too. Here's the scoop on Bistro Jazz this week end (and BEYOND):
Friday 6/22 Jay's (8:30-11:30) Bard Hoff/guitar, Mark Raynes/drums, Kevin Miles & Myles Sloniker split the bass chair & Mark Sloniker/piano. This is some cool jazz that will ROCK YOU!
Saturday 6/23 (8:30-11:30) Ben Waters/drums, Marty Kenney/bass & Mark Sloniker/piano (a very swingin' trio) with a horn or two sittin' in later.
Friday 6/29 (8:30-11:30) features Myles Sloniker/bass and Chris Smith/drums!
Saturday 6/30 (8:30-11:30) features Colleen Crosson/voice, Myles Sloniker/bass and Mark Sloniker/piano (as Sly Stone might say "It's a family affair").
Join us! Thanks for Listening!
Mark
Oh yeah: Colleen, Myles & Mark are playing at Oak Street Plaza from 1:30-4:30 this Sunday (6/24) as part of the Streetmosphere performances. Drop by!
6/7/2012
Greetings, E-Friends,
Just a quick note to let you know the line up at Jay's this weekend:
Tonight, Thursday – the dynamic duo, Sloniker and DAd, will be in the house, along with special guests (6:3010:30).
Friday, June 8th - solo Sloniker set from 6-8, followed by a killer band 8:30-11:30 featuring Austin Day on saxophone, Marty Kenny on bass & Mark Raynes/drums (8:30-11:30).
Sat., June 9th – solo piano set 6-8, followed by the soulful sounds of vocalist Billy Hundley with Roger Barnhart on bass and special guest Matt Carroll/drums (8:30-11:30).
Hope to see you out and about! Mark
5/22/2012
Dear E-Friends,
The first atom says to the second atom, "I think I've lost an electron." The second one says, "Are you sure?"….The first atom: "Yes I'm positive!"…(Thanks John - I sure got a charge out of that one)! If our hearts are made of atoms (and I'm pretty sure they are) then, as a matter of fact, those atoms must be at the heart of the matter, and if we put our hearts into it, then so will the jazz that comes about this week at Jay's Bistro (who can put that into an algebraic equation…that you've learned by heart?).
Wednesday 23rd Jay's presents that up-and-atom trio: Monster Trux Jazz (speaking of nuclear families, as opposed to old-clear families) with Mark Raynes/drums, Kenny Jones/bass and Mark Sloniker/piano. This group has all the elements of success in their unique chemistry (u-nique up on them and see what happens)! Music 7-10pm.
Thursday 24th (6:30-10:30) Jay's stays on course with Myles and Mark Sloniker (bass & piano)…talk about chemistry – it's in their genes!
Friday 25th This Bistro will rock (in a jazzy way) with guitarist, Ryan Fourt, bassist, Marty Kenney, drummist, Mark Raynes & alchemist, Mark Sloniker. Solid gold jazz awaits if you karat all to catch some: 8:30-11:30.
Saturday 26th Guitarist, Grant Gordy returns and is joined by bassist, Myles Sloniker and pianist, Mark Sloniker…the atmosphere that these three create together is so rich, that you can breathe in it and breathe easy, at that (8:30-11:30)!
Upcoming: Austin Day is back for what is probably his last Fort Collins appearance, Friday, June 8th (8:30-11:30), so don't miss out!
As always, thanks so much for listening!
Mark
5/3/2012
Dear E-Friends,
Does anyone "out there" know how "may day" became a "distress call"? I know that I can Google it (everything ever said is out there). But it's more fun to ask you. Yesterday I Googled "mark sloniker & dog doo" and found that I really did say that I would pick it up in the back yard – now I'm waiting for the follow up Google entry which derides me for not "making good" on my promise…and thus "eliminating" me from a presidential run for the White House this fall. And wait a minute…does the White House have a back yard? And who would…? I can't wait to Google that!
There is some Après Google Jazz available this week at Jay's. You can find out by Googling it…or just read on. If anything goes wrong, just send out a MAY DAY and we'll be right over.
Thursday, May(day) 3rd (6:30-10:30) - Jay's may-debut (read it slowly) features some fine new music starting with an appetizer of solo piano (Mark Sloniker), then adding a side salad of bass (Roger Barnhart) as we ready for some featured entrees' of musical guests, including, but not limited to, cameo appearances by Leslie Parreco & Judy Lucero with a dash of Monty Hogan. I think we'll all get our "just desserts" with a suite (or should that be sweet) finale of Faure' fondue for a fond farewell.
Friday, May 4th (drum roll, dinner roll and egg roll if you please) - Jay's presents an all-star line-up of the Bistro's main-courses: Andrew Vogt/sax, Mark Raynes/drums, Myles Sloniker/bass and Mark Sloniker/piano - a sweet and solid combo for any May-Day (nothing distressing here)…and yes, you can "Google that" (8:30-11:30).
Saturday, May 5th (if "may-day" is a distress call – is "may-night" an after-hours distress call?…I'm in the dark on this one)…. Anyway, on this May-night, Jay's hosts a fine jazz trio with Boulder drummer, Alwin Robinson, Hometown-fave, Myles Sloniker/bass and Mark Sloniker/piano. There will be some fine guest appearances from cats "beebopping" by (and by) (8:30-11:30).
More good music follows next week: Friday, May 11th features Austin Day/sax. Saturday, May 12th features Billy Hundley/voice. Any questions? Google this…
Thanks for listening!
Mark
4/25/2012
Dear E-Friends,
What a week this is! Some very inspired jazz @ jay's ensues and we always enjoy your presence (we love to play for you)! I also want to tell you about a very cool concert coming up. This Sunday (4/29) the Myles/Mark Sloniker Duo (AKA Sloniker & Sloniker) sojourns to Alamosa, Colorado for a very special evening of music at Adams State Collage. Now, 31 years ago (and yes, I am dating myself) when I first moved to Fort Collins to perform with the band, Kinesis, one of our first gigs was at ASC (on a snowy night in March…3/5/81 if my memory serves correctly). Eleven years later, I started up a correspondence with a young violist from Long Island, New York, perhaps still in Jr. High, who had obtained a CD of mine, liked it and wrote me (they were actual letters-through-the-mail…no, not e-mail, the U.S. Mail!) to talk music. We kept in touch over the years, and today, that same young man, Dr. Mathew Schildt, is on the Music Faculty at Adam State College in Alamosa where he lives with his wife and daughter. What an honor and joy it is to be invited to come down and play this concert with my son, bassist, Myles. The music starts at 7:30 and we will play the most inspired music that we are able! If you are within shouting-driving-flying-tele-transporting distance, we sincerely encourage you to attend! Details here: http://www.adams.edu/news/apr1219.php
And for those who used up all their "frequent-tele-transporting-miles" (or would that be parcecs) last week to see Myles perform (with a few other amazing musicians eg. Ron Carter) at the UNC Greeley Jazz Festival - you can catch us at a bistro nearer to you….
Wednesday 4/25, 7-10 pm - Jay's Bistro plays host to the one-and-only Monster Trux Trio (Mark Raynes, Myles Sloniker & Mark Sloniker)! We'll do the Mash!…we'll do the….
Please note: Thursday 4/26 Jay's will be closed for a private party (sorry!).
Friday 4/27 Jay's displays the arrays of ways (that) jazz saaaays (work with me here) cool thangs…trumpeter, Andrew Linn, Myles Sloniker/bass, Mark Raynes/drums & Mark Sloniker/piano will play 8:30-11:30.
Saturday 4/8 Jay's welcomes singer, Colleen Crosson with Myles Sloniker/bass & Mark Sloniker/piano (the Partridge family got nuthin' on us).
For the early birds, remember I always play a solo set from 6-8 on Friday and Saturday nights.
As always, thanks for Listening!
Mark
4/4/2012
Dear E-Friends,
If you are extremely busy this week (and who isn't) then it's even more important than ever to "stop and hear the jazz"…spring jazz is the best – we hide colored eggs and chocolate bunnies inside all our tunes – and with each of us being a basket case anyway, the plastic green grass we put on our heads just adds to the holiday motif (this time of year, I've got jelly beans for brains anyhow)… and speaking of Haydn things…this is a classic case of jazz, like life, being created anew (and not because we couldn't play it the same way twice – true as that may be), but because jazz, like spring, is the excitement of not-being-able-to-wait-for-what-happens-next…even when you are in the midst of one of the longest RUN-ON sentences you've ever encountered and rather than sentence you to any further grammatical/syntactical strife…I'm just going to tell you about the music…(okay)?
Wednesday 4th …the Monster Trux Trio (Raynes/Kenney/Sloniker) has been hidden inside the lounge at Jay's Bistro. Your mission, using only your Easter Bunny ears (and eyes and noses) is to find them…if you do, you will be rewarded with something suite (7-10)! [Hint: it's ear candy.]
Thursday 5th Jay's Bistro eggs you on to join Roger Barnhart & Mark Sloniker and Peter Cottontail (he plays by ear). Bring a date if you want to whisker away with beautiful music (6:30-10:30).
Friday 6th Jay's Bistro (even though this Friday is Good Friday) this Friday might just as well be Great Friday with Jori Tindall/sax, Myles Sloniker/bass (not just any bass – but his brand-new-hundred-year-old-hand-carved-German-bass) with Mark Raynes/drums and Mark Sloniker/piano (8:30-11:30).
Saturday 7th Jay's Bistro is the place for spring jazz with Billy Hundley/voice, Myles Sloniker/bass, special guest Matt Carroll/drums and Mark Sloniker/piano (8:30-11pm).
As always, Thanks for Listening (Happy Easter & Happy Spring too)!
Mark
p.s. Hugh Ragin/trumpet at Jay's on Saturday 4/14!
3/21/2012
Gr-E-tings E-friends,
It appears that spring has sprung (did winter ever really wunter this year though?). I try to be careful for what I ask (for) – recalling the spring snow storm of '05, but the Colorado Front Range is one thirsty mama (looking for a drink of nature's finest -"I'd like a water with a side order of water and a water-back; hold the ice"). Last week we were in Nashville, where we got rained on and sunned on and blossomed on by a myriad of blooming things – what a cool town/area that is. I grew up (or failed to grow up – as I am often reminded) in the Cincinnati area – also a river town built amidst rolling hills and thick woods growing out of humus rich soil. So this trip was a kind of going home, topographically speaking (I thought you'd get a rise out of that). And speaking of topics…let's change the topic to jazz@jay's! We're back this week with more "fun music" at Jay's Bistro. And if there's anything great about getting away, there's something even greater about getting back. Spring has sprung this week and music is springing out of a Bistro (relatively) near you. Or, as Hafiz says, "I caught the happy virus while singing under the moon last night; it's very contagious, so kiss me!" Happy Spring!
Wednesday 3/21 Jay's displays the many arrays of merry-music-making with Marty Kenney/bass, Mark Raynes/drums and Mark Sloniker/piano (7-10).
Thursday 3/22 Jay's (6:30-10:30) plays host to bassist, Roger Barnhart with Mark Sloniker at the keys and some special guests chiming in.
Friday 3/23 Jay's: from 6-8 I play solo piano, then am joined at 8:30 by Austin Day/sax, Myles Sloniker/bass and Mark Raynes/drums (8:30-11:30).
Saturday 3/24 Jay's brings vocalist, Colleen Crosson, bassist, Roger Barnhart, percussionist, Derf Green and pianist (the most carefully pronounced word in show business), Mark Sloniker to the stage for some spring sprung fun. Don't miss it!
As always, thanks for listening!
Mark
PS: trumpeter, Hugh Ragin is back with us at Jay's on Saturday, April 14th.
2/10/2012
Dear E-Friends,
My friend John (thanks John!) sent this (photo below) to me…and I HAD to forward it to you! Because…if you've ever considered a career in the music business, but wondered whether you had the chops for it…(no that's not it)…if you love to drop in for a quick bite to get in the swim of things (woops that's not it either)…if you think that life's a crock, but you need all the gator-aid that you can muster (sorry still searching)…OR if you just can't stay out of THAT pool at the office and then tend to get consumed by the folks on the side-lines (I think we have a winner!). At any rate, jazz is a little like this picture – demise is immanent…but what a view...life is a stroke of luck…so even if you weren't going to fall for this… We shore hope to see you this week end!>>>
Oops.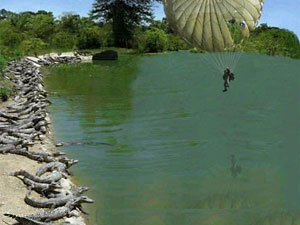 Friday 2/10 Jay's Bistro is ecstatic to bring you Peter Sommer/sax (this man plays some amazing stuff) Mark Raynes/amazing drums, Roger Barnhart/amazing bass and Mark Sloniker/piano…this is a deep group (not playing on the surface)…snorkeling jazz 8:30-11:30.
Saturday 2/11 Jays features Marty Kenney/bass, Oscar DeZoto/drums and Mark Sloniker/piano with Stephen Kampa/guest harmonica who will be cooking up some sublime stuff! (8:30-11:30).
Also wanted to let you know about our annual "JOY" concert at Unity of Fort Collins, 1401 W. Vine Dr., Fort Collins, this Sunday evening, Feb 12th at 7 pm. Joining Colleen Crosson and me will be Myles Sloniker on the double bass, Gerald Gates on drums, Judi Lucero on flute, and perhaps another guest or two! We will be sharing potluck desserts and finger food in the Rumi Room following the concert. Hope you can join us for a delightful evening of community and song. A "love offering" will be gratefully accepted at the door.
Next week Grant Gordy is rescheduled at Jay's for Friday Feb. 17th after our snow day last week.
1/24/2012
Dear E-Friends,
My E-Friend B.Y. sent these two jokes my way (thanks B.Y. ) so I am sending them forth in hopes they will give you a chuckle too.
Did you hear that The Invisible Man married The Invisible Woman? Their children really aren't much to look at. ;-)
-WOW…I didn't see that one coming!
Two antennas (antennae?) got married on a rooftop. The wedding wasn't much, but the reception was amazing!
-The atmosphere up there really gets people on the same wave length!
Okay, now on to more serious things like…the fact that there are only eight more shopping days until Groundhog Day (my personal favorite holiday of the year). The patron saint is Bill Murray . The matron saint is Andie MacDowell. The patron Saint is Bill Murray. The matron Saint is Andie MacDowell. The Patron saint is….(get it?)
Okay, the good thing about jazz is that it never happens the same way twice (or so I think is does[n't]). So we will be playing "Me and My Shadow" every night just to see if it is[n't] true. Here goes:
Wednesday, 1/ 25 - Jay's is the place for that zany madcap knuckle-head "Monster Trux Trio"…we'll be inserting quotes from 1960's and 70' TV sit-coms into our jazz repertoire…"Because we Can"! And if you're really good, I'll sing the Bill Murray lounge lizard version of "Star Wars" ….nothing but bar wars! M.T.T. = Roger Barnhart/bass, Mark Raynes/drums and Mark Sloniker/piano (7-10).
Thursday, 1/ 26 - Marty Kenney joins the jazz at jay's line up with Sloniker at the piano. Our friend Leslie Parreco will sit in and vocalize on a few numbers (we're only doing the positive numbers and rational ones at that)!? (6:30-10:30)
Friday, 1/27 (8:30-11:30) - trumpeter David Moore, bassist Myles Sloniker, drummer Mark Raynes, and pianist Mark Sloniker join together for the classic-count-down-to-Groundhog-day. They will be digging jazz in a way that you'll get all the dirt…the hole dirt…and nothing but the dirt…until everyone's reputation has been sufficiently soiled (okay, no mudslinging though)
Saturday, 1/28 (8:30-11:30) - Myles Sloniker/bass and Mark Sloniker/piano are joined by new drummer sensation Tom Toms who will be joined later by Kalli VanderTop/voice for some fine pre-Groundhog Day holiday music (like "The Shadow of Your Smile" and "Spring is Here").
The pre-GHD festivities are starting. See you there!
Mark
1/10/2012
Happy New Year (and happy Jazzuary) My fabulous & wonderful E-Friends!
This first month of the year is named for the Greek God of Jazz – Jazzuary, and is aptly placed in a month where there is more night than day ("night & day"), more cold than warmth (except today of course) and more syncopated-slip-sliding-accrossssss-ssssssnow-and-iccccccccce-and-slushhhhhhhhhh than…than….than whatever the opposite of that is.  I love Jazzuary because it is the beginning of the return of the light in the evening sky…yet cold enough to make me be honest with myself (well at least honester with myself…which is sometimes important for people with vivid imaginations).  Jazzuary (the Greek God) was the same way and would often (as legend tells us) pop up to the North Pole to Santa's work shop where he played jazz drums in a small workshop combo (Santa is a mean-bass-man, who could groove while tapping his mistletoe) and Santa would encourage Jazzuary to examine the "cold-hard-facts" …like who could ever make a living playing jazz…hence the term "snowflakes chance in hell" (and if I seem COLD to you…well I'm just getting warmed up)!  AND, speaking of making things up…HERE'S where we'll be making things up all week and BEYOND!  Happy Jazzuary!  Happy 2012!
Wednesday 1/11 Jay's (7-10) Thee Monster Trux Trio (Mark(s) Raynes/Sloniker & Roger(s) Barnhart) will be making things up in honor of Jazzuary and sax man Sam Williams will join in at some point.  Come out and chill…OR warm up to us!
Thursday 1/12 Jay's (6:30-10:30) Mark(s) Sloniker is his own warm-up band (that's the good thing about having multiple personalities); then bassist (Dr.) Forest Greenough throws his "pork-pie-hat" into the ring and from there, who knows???  Guests have been known to join us.
Friday 1/13 (by the way – Jazzuary 13th is the Greek God, Jazzuary's birthday and it's always on a Friday at the North Pole – everyone including elves get(s) the day off).  Jay's celebrates this day with Jazz (8:30-11:30) with Andrew Vogt/sax, Roger Barnhart/bass, Mark Raynes/drums and Mark Sloniker/piano.
Saturday 1/14 WOW!  Jay's is the plays for drum man, Shilo Stroman (he'll be channeling Jazzuary), bass man Myles Sloniker (he'll be channeling Santa), and Mark Sloniker (he'll be channel surfing…it's his station in life), and by and by, Angela Parrish (extra fine vocalist from the UNC jazz program) will join in (8:30-11:30).
Now, I'm not making any of that up…I swear to Jazzuary (or am I?)?!  Come join our warm hearts and cold noses and find out!
As always, thanks for listening,
Mark